Growing client book sharpens advisers' quest for efficiency, presenting opportunities for tech providers
Declining adviser numbers translate into more clients (on average) per adviser
As they seek greater efficiencies, advisers embrace further tech integrations but consolidate their platform use
Advisers expect more good than bad to come from generative AI
24th July 2023, Sydney – Leading financial services research firm Investment Trends releases its 20th annual edition of the 2023 Adviser Technology Needs Report.

Providing an in-depth analysis of the evolving technology needs of financial advisers in their provision of advice, as well as their usage of platforms and advice software, this year's edition highlights:

The number of financial advisers in Australia has continued to trend downwards in recent years (15,700 advisers as of May 2023 according to the ASIC Financial Advice Register). At the same time, the average number of active clients per adviser has risen to 120, up from 113 a year ago ('active' refers to those clients who have seen their adviser at least once in the preceding 12 month period).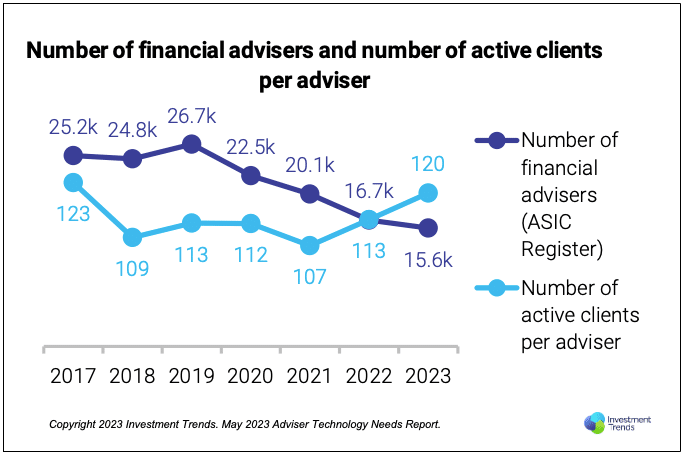 "The average number of clients serviced by any single adviser appears to be (slowly but surely) approaching Dunbar's cognitive limit," said Dr Irene Guiamatsia, Head of Research at Investment Trends. "This renders considerations of scale, digital engagement and the broader role of technology more pertinent than ever."
The report throughout confirmed that the pace at which advisers are embracing technology is continuing to rise. With a growing portion of advisers being satisfied with the tools they currently have access to, there are many willing to pay extra for access to more (with tools highest in demand related to retirement planning 32% and cash flow modelling 31%). 
"There is no subsiding in the interest advisers express for seamless data transfers between the various systems they use. While the focus remains on traffic between planning software and investment platforms, there is also substantial demand for integrations with bank accounts, trading tools, and appointment scheduling software – all of which can support advisers in meeting this growing client demand," highlighted Guiamatsia.
When it comes to the breadth of platforms used, the past year has seen advisers consolidate the number of platforms in their tech stack – with 43% of advisers now only using two platforms (up from 32% in 2022). Advisers call out good online functionality and low cost as top of mind features (amongst others) when assessing suitable platform options.
"Despite the consolidation that has occurred, 12% of advisers remain open minded about alternative platform solutions. Platform providers therefore have every interest in seeking to better understand what advisers are looking for and offer an appropriate solution that's going to best help them, help their clients," said Guiamatsia.
In a first this year, the report features a deep dive into advisers' self-assessment of the preparedness of their practice to cyber incidents, as well as potential applications for generative AI tools such as ChatGPT. Advisers appear rather welcoming of ChatGPT and similar tools, with 11% expecting a 'very positive' impact and another 44% expecting a 'positive' impact.
"Advisers with a positive outlook of the role of AI, see quick wins in the areas of research/modelling, data analytics, reporting, but also cybersecurity. These are all areas mentioned to a much greater degree than digital advice is," added Guiamatsia.
About the report
Celebrating the 20th annual edition of the Investment Trends 2023 Adviser Technology Needs Report, this report examines the evolving technology needs of financial advisers in their provision of advice, as well as their usage of platforms and advice software. The Report is based on an in-depth online survey of 632 financial advisers conducted between April and May 2023.