44% of UK online investors admit to feeling the brunt of increased inflation and cost of living
Investors increasingly becoming more cost conscious following fifth consecutive year of switching activity
Pre-retirees report high confidence levels when making investment choices while investing in their SIPP
Disruptive and low-cost platforms continue to gain traction amongst investors
20th July 2023, London – Leading research firm Investment Trends released its latest 2023 UK Online Investing Report.

The 14th edition of the UK Online Investing Report is the most extensive study of retail online investors in the UK. Examining the complete spectrum of DIY investing activity from long-term investors (buy & hold) to those trading a few times a year, on to frequent traders, this year's edition highlights:

From the research undertaken, 2.66m UK adults (individuals, not accounts) hold unlisted funds on, and/or have traded listed investments via, an online investing platform. The number of active listed equities investors (1.23 million, up from 1.22 million in May 2022) has largely held steady over the past 12 months, driven by significant reactivation of previously dormant clients.
"The adoption of cash products (fixed deposits and high yield savings accounts) nearly doubled in the past year, consistent with rising interest rates globally. The report also revealed that nearly one in two online investors admit to feeling the brunt of higher inflation – with many reporting a drop in portfolio value and savings," said Lorenzo Vignati, Associate Research Director at Investment Trends.
With tough market conditions being a dominant force paralysing dormant online investors, high-fees are also increasingly to blame for investors stopping their use of a platform. With switching activity continuing to rise to a five-year high, more than one in ten online investors (11%) say they are likely to open a new account with another platform over the next 12 months.

Looking to where investors hold the bulk of their investments, it is estimated that an average of 42% of their total investments are held in stocks and shares ISAs (up from 39%), and 15% in SIPPs (down from 18%). In terms of terms of confidence when making investment decisions (specifically for SIPPs), pre-retirees report the highest levels of confidence, whereas Zoomers and Millennials report the lowest levels of confidence.
"With a notable disparity in confidence to make investment decisions from one generation to the next, platforms have a key opportunity to review their engagement and support services and ensure they are meeting the needs of their investors across the entire user journey," added Vignati.
The report also uncovered online investor's platform preferences, where more listed investors are continuing to move away from traditional investing platforms and seek lower-cost alternatives (61% of UK online investors are now using either a disruptive commission-free or low-cost investing platform as from May-2023). The findings revealed that disruptive platforms were primarily chosen by 'pure' listed equities investors, whilst other 'low-cost' platforms have gained traction among those pursuing a mixed equities and funds strategy.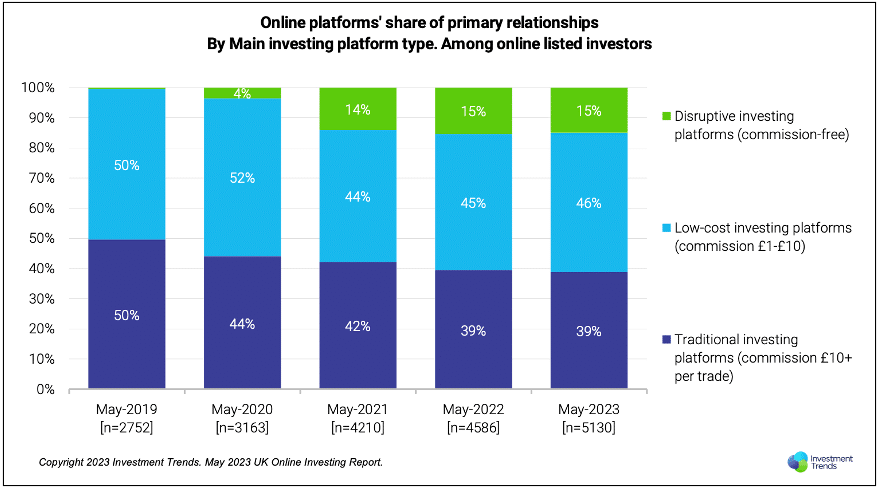 About the report
The fourteenth edition of the UK Online Investing Report is based on a quantitative online survey of 13,386 online investors conducted by Investment Trends between April and May 2023.